The Rock Dwayne Johnson Biography
"We all have hopes, goals, dreams and aspirations, and I've officially made it my project to help as many of you get after your goals as possible. Let's get after it and chase greatness… together." Dwayne Johnson
Real Name: Dwayne Douglas Johnson
Born: May 2, 1972 in Hayward, California, United States
Age: 50
Height/weight: 6'5″   260 lbs.
Parents: The late Rocky Johnson and Ata Maivia
Spouse: Lauren Hashian, married on August 18, 2019 (2 children-Jasmine and Tiana)
Ex-wife: Dany Garcia (1 child-Simone) 1997-2007
College: University of Miami, Miami, Florida 1991-1995.
Was a member of the 1991 National Championship football team as a Defensive Tackle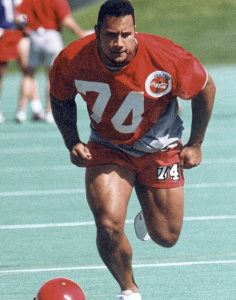 Degree: Bachelor of General Studies Degree in Criminology and Physiology 1995
High School: Freedom High School, Bethlehem, Pennsylvania
Canadian Football League (CFL): Former Linebacker for the Calgary Stampeders in 1995
Occupation: Actor, Producer, Professional Wrestler, XFL Football League co-owner, Licensed Minister in California
Estimated Net Worth 2022: $350-400 million
Current Residence: Miami, Florida (or where ever the set of his current movie is)
To see a complete list of Dwayne Johnson movies, click here.