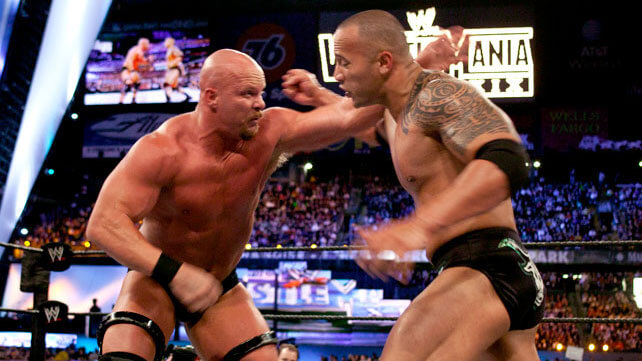 10 Time World Champion. The People's Champ. The Great One.
As one of the leaders of the "Attitude Era" along with Stone Cold Steve Austin, the Undertaker and D-Generation X, the Great One's brash and boastful persona along with his incredible physical tools helped the WWE win the Monday Night wars with rival WCW. He is considered by pro wrestling expert Jim Ross as on the Mount Rushmore of wrestlers.
Here is statistics and information of The Rock's wrestling career in the WWF/WWE.
Ring Names: Flex Kavana, Rocky Maivia, The Rock, Dwayne "The Rock" Johnson
Nick Names: The Brahma Bull, The Great One, The People's Champ, Thee Most Electrifying Man in All of Sports Entertainment
Finishing Moves: Rock Bottom, People's Elbow, Sharpshooter, Spine buster, DDT
Career Record: 269-163-40 draws/no contests (472 matches) 57% winning percentage. Source: profightdb.com
Career Length: Primarily 1996-2004 (8 years)
WWF Debut: Nov. 4, 1996 on Monday Night RAW as Rocky Maivia, a combination of his dad and grandfather's wrestling names (Rocky Johnson and Peter "High Chief" Maivia).
1st Pay Per View: Survivor Series Nov. 17, 1996
1st Title: WWF Intercontinental Championship: Monday Night RAW. Defeated Hunter Hearst Helmsley  Feb. 13, 1997
1st WWF Heavy Weight Championship: Survivor Series. Defeated Mankind Nov. 15,1998
1st Wrestlemania: Wrestlemania 13: Defended his Intercontinental Title against The Sultan.  March 23, 1997
WWF/WWE Champion: 8 times
WCW World Heavyweight Champion: 2 times
WWF Intercontinental Champion: 2 times
WWF Tag Team Champion: 5 times
Partners: Mankind (3), Undertaker (1), Chris Jericho (1)
Royal Rumble Champion: 2000
1st Ever 6 Time Heavyweight Champion
WWF's first 3rd generation wrestler
6th Ever Triple Crown Champion: Held Heavyweight championship, Intercontinental and Tag Team title during career
9 Time Slammy Award Winner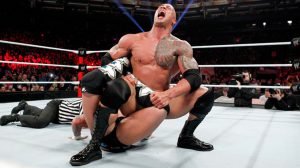 Headlined Wrestlemania: 5 times – #'s 15, 16, 17, 28, 29
Only Wrestler to host Wrestlemania: #27 (2011)
Total PPV Events Wrestled: 79
Most Notable Wrestling Feuds: Triple H, Stone Cold Steve Austin, Mankind/Mick Foley
Wrestlemania Career Matches
Wrestlemania 13 (1997): Rocky Maivia defended the Intercontinental Championship over The Sultan
Wrestlemania 14 (1998): The Rock defended the Intercontinental Championship over Ken Shamrock via disqualification
Wrestlemania 15 (1999): Lost WWF Championship to Stone Cold Steve Austin in the main event.
Wrestlemania 16 (2000): Lost Four Way Elimination Match vs. Triple H, Mick Foley, and The Big Show in the main event.
Wrestlemania 17 (2001): Lost match and WWF Championship to Stone Cold Steve Austin in No Disqualification match (main event)
Wrestlemania 18 (2002): Defeats Hollywood Hulk Hogan via pin in "Icon vs. Icon" match
Wrestlemania 19 (2003): Defeats Stone Cold Steve Austin via pinfall in main event
Wrestlemania 20: (2004): Evolution (Batista, Ric Flair, Randy Orton) defeat The Rock 'N Sock Connection (partner-Mick Foley) tag team handicap match
Wrestlemania 27 (2011): Becomes first wrestler to host a Wrestlemania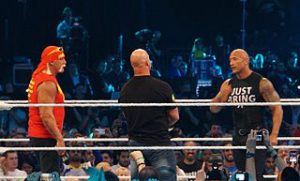 Wrestlemania 28 (2012): Defeats John Cena via pinfall in the "Once in a Lifetime" main event match
Wrestlemania 29 (2013): Lost WWE Championship to John Cena via pinfall in main event
Wrestlemania 30 (2014): Made appearance in the ring with Hulk Hogan and Stone Cold Steve Austin
Wrestlemania 31 (2015): Teamed with Ronda Rousey in forcing Stephanie McMahon and Triple H out of the ring
Wrestlemania 32 (2016): Pinned Erick Rowan a record 6 seconds in an impromptu match
Wrestlemania Career Win/Loss Record: 6-5
WWF/WWE Championship Reigns
1. Defeated Mankind at Suvivor Series, Nov. 15 1998
Lost title to Mankind on Monday Night RAW, Dec. 29, 1998
2. Defeated Mankind at Royal Rumble "I Quit" match, Jan. 24, 1999
Lost title to Mankind during WWF Superbowl Half-Time Heat/Empty Arena Match Jan. 31, 1999
3. Defeated Mankind on Monday Night RAW Ladder match, Feb. 15, 1999
Lost title to Stone Cold Steve Austin at Wrestlemania 15, May 1999
4. Defeated Triple H at Backlash, April 30, 2000
Lost title to Triple H at Judgement Day 2000 in 60 Minute Iron Man match, May 21, 2000
5. Pinned Vince McMahon in a 6 man tag team match at King of the Ring June 25, 2000
Lost title to Kurt Angle at No Mercy, Oct. 22, 2000
6. Defeated Kurt Angle at No Way Out, Fe. 25, 2001
Lost title to Stone Cold Steve Austin in the main event at Wrestlemania 17, April 1, 2001
7. Pinned Kurt Angle in a Triple-Threat Match with The Undertaker at Vengeance to win the WWE Undisputed Title, July 21, 2002
Lost title to Brock Lesnar at SummerSlam, Aug. 25, 2002
8. Pinned CM Punk to win WWE Championship at the Royal Rumble, Jan. 27, 2013
Lost title to John Cena at the main event of Wrestlemania 29, April 7, 2013