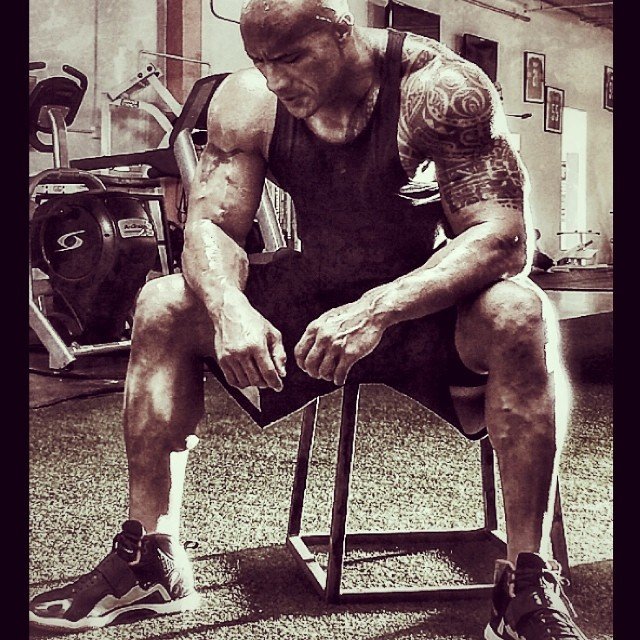 The Rock is 45 years old. He looks 35. Why? Workout and diet. You have to when your character is Hercules, Hobbs, or facing John Cena in the squared circle headlining Wrestlemania.
Here is how to train and eat like "The Rock."
Note: This is an intense workout. Please consult your physician before starting any type of exercise program.
Note: The Rock's workout consists of pyramid sets. What does that mean? You start out lifting with lighter weight and higher reps. As the weeks pass by, you keep adding weight and lowering your reps.
It's a great way to warm up the target muscles first (less weight/more reps) and prepare them for the heavier weight. Here is Dwayne's pyramid sets to build muscle and strength and lower the risk of injury.
Week 1: 4 sets x 12 reps
Week 2: 4 sets x 10-12 reps
Week 3: 4 sets x 8-10 reps
Week 4: 4 sets x 6-8 reps
The Rock Workout Routine
MONDAY – Chest & Shoulders
1 hour Cardio on Treadmill: 5 min warm up / 50 min steady pace / 5 min cool-down

1.5 hours Weightlifting 
| | | | | |
| --- | --- | --- | --- | --- |
| Exercise | Sets | Reps | Rest | Notes |
| Dumbbell Incline press | 4 | Pyramid | 45 secs | Both Arms |
| Dumbbell Incline press | 2 | Pyramid | 45 secs | Alternating |
| Chest Flys with Dumbbells | 4 | Pyramid | 45 secs | Flat Bench |
| Dumbbell Bench press | 4 | Pyramid | 45 secs | Both Arms |
| Dumbbell Bench press | 2 | Pyramid | 45 secs | Alternating |
| Seated Overhead Press | 4 | Pyramid | 45 secs | Dumbbells |
| Dumbbell Front Raises | 4 | Pyramid | 45 secs | |
| Dumbbell Side Raises | 4 | Pyramid | 45 secs | |
| Bent-Over Lateral Raises | 4 | Pyramid | 45 secs | |
| Cable Flys | 4 | Failure | 00 secs | Superset |
| Dips Until Failure | 4 | Failure | 45 secs | Superset |
TUESDAY – Legs & Back
1 hour Cardio on Treadmill: 5 min warm up / 50 min steady pace / 5 min cool-down
1.5 hours Weightlifting
| | | | | |
| --- | --- | --- | --- | --- |
| Exercise | Sets | Reps | Rest | Notes |
| Seated Leg Presses | 4 | Pyramid | 45 secs | |
| Lying Leg Curls | 4 | Pyramid | 45 secs | |
| Smith Machine Lunges | 4 | Pyramid | 45 secs | |
| Stiff-Legged Deadlifts | 4 | Pyramid | 45 secs | |
| Box Jumps | 3 | 20 | 45 secs | |
| Calf raises | 3 | 20 | 45 secs | |
| Dumbbell Rows | 4 | Pyramid | 45 secs | |
| Lat pull-downs | 4 | Pyramid | 45 secs | Wide Grip |
| Lat pull-downs #2 | 4 | Pyramid | 45 secs | Narrow Grip |
| Seated Pulley Rows | 4 | Pyramid | 45 secs | |
| Barbell Shrugs | 3 | 8-10 | 45 secs | |
| Heavy DB Shrugs | 3 | 10-12 | 45 secs | Dumbbells |
WEDNESDAY – Arms & Abs
1 hour Cardio on Elliptical / StairMaster: 30 min steady pace on each
1.5 hours Weightlifting Routine
| | | | | |
| --- | --- | --- | --- | --- |
| Exercise | Sets | Reps | Rest | Notes |
| Triceps Push-downs | 3-4 | 8-12 | 45 secs | Normal Grip |
| Triceps Push-downs | 3-4 | 8-12 | 45 secs | Narrow Grip |
| Lying Tricep Skullcrushers | 3-4 | 8-12 | 45 secs | |
| Barbell Bicep Curls | 3-4 | 8-12 | 45 secs | |
| Preacher Curls | 3-4 | 8-12 | 45 secs | machine |
| Dumbbell Hammer Curls | 3-4 | 8-12 | 45 secs | alternating |
| Double Crunches | 3 | 25 | 45 secs | |
| Bicycle Crunches | 3 | 25 | 45 secs | |
| Reverse Crunches | 3 | 25 | 45 secs | |
Thursday – Chest & Shoulders (same as Monday)
1 hour Cardio on Treadmill: 5 min warm up / 50 min steady pace / 5 min cool-down
1.5 hours Weightlifting Routine
| | | | | |
| --- | --- | --- | --- | --- |
| Exercise | Sets | Reps | Rest | Notes |
| Dumbbell Incline press | 4 | Pyramid | 45 secs | Both Arms |
| Dumbbell Incline press | 2 | Pyramid | 45 secs | Alternating |
| Chest Flys with Dumbbells | 4 | Pyramid | 45 secs | Flat Bench |
| Dumbbell Bench press | 4 | Pyramid | 45 secs | Both Arms |
| Dumbbell Bench press | 2 | Pyramid | 45 secs | Alternating |
| Seated Overhead Press | 4 | Pyramid | 45 secs | Dumbbells |
| Dumbbell Front Raises | 4 | Pyramid | 45 secs | |
| Dumbbell Side Raises | 4 | Pyramid | 45 secs | |
| Bent-Over Lateral Raises | 4 | Pyramid | 45 secs | |
| Cable Flys | 4 | Failure | 00 secs | Superset |
| Dips Until Failure | 4 | Failure | 45 secs | Superset |
Friday – Legs & Back (same as Tuesday)
1 hour Cardio on Treadmill or Jog: 5 min warm up / 50 min steady pace / 5 min cool-down
1.5 hours Weightlifting
| | | | | |
| --- | --- | --- | --- | --- |
| Exercise | Sets | Reps | Rest | Notes |
| Seated Leg Presses | 4 | Pyramid | 45 secs | |
| Lying Leg Curls | 4 | Pyramid | 45 secs | |
| Smith Machine Lunges | 4 | Pyramid | 45 secs | |
| Stiff-Legged Deadlifts | 4 | Pyramid | 45 secs | |
| Box Jumps | 3 | 20 | 45 secs | |
| Calf raises | 3 | 20 | 45 secs | |
| Dumbbell Rows | 4 | Pyramid | 45 secs | |
| Lat pull-downs | 4 | Pyramid | 45 secs | Wide Grip |
| Lat pull-downs #2 | 4 | Pyramid | 45 secs | Narrow Grip |
| Seated Pulley Rows | 4 | Pyramid | 45 secs | Dumbbells |
| Barbell Shrugs | 3 | 8-10 | 45 secs | |
| Heavy DB Shrugs | 3 | 10-12 | 45 secs | Dumbbells |
SATURDAY – Arms & Abs (same as Wednesday)
1 hour Cardio on Elliptical / StairMaster: 30 min steady pace on each
1.5 hours Weightlifting Routine
| | | | | |
| --- | --- | --- | --- | --- |
| Exercise | Sets | Reps | Rest | Notes |
| Triceps Push-downs | 3-4 | 8-12 | 45 secs | Normal Grip |
| Triceps Push-downs | 3-4 | 8-12 | 45 secs | Narrow Grip |
| Lying Tricep Skullcrushers | 3-4 | 8-12 | 45 secs | |
| Barbell Bicep Curls | 3-4 | 8-12 | 45 secs | |
| Preacher Curls | 3-4 | 8-12 | 45 secs | machine |
| Dumbbell Hammer Curls | 3-4 | 8-12 | 45 secs | alternating |
| Double Crunches | 3 | 25 | 45 secs | |
| Bicycle Crunches | 3 | 25 | 45 secs | |
| Reverse Crunches | 3 | 25 | 45 secs | |