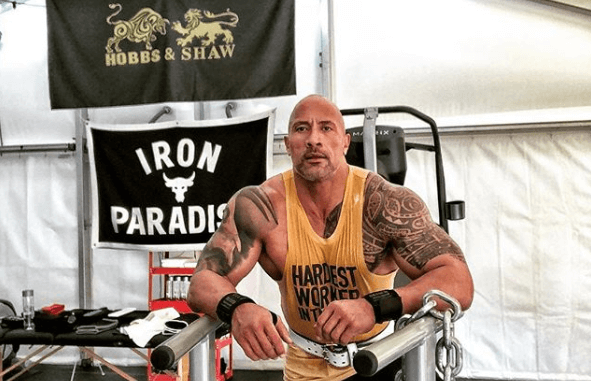 Every now and then when things just aren't going your way, you could always use a little pick me up to keep grinding.
Whether it's relationship problems, stress at work/school or maybe just the weather's got you down – we can all relate to those types of days. Reading motivational quotes can help you boost your confidence, stay positive and bring a smile to your face.
Here's 25 more quotes and words of wisdom from Dwayne 'The Rock' Johnson. Johnson, the former WWE Champion turned actor, knows what it's like to have his back against the wall and claw his way to the top by being the hardest worker in the room, through personal sacrifices and perseverance.
Enjoy these pick me ups as 2018 comes to a close and focus on making yourself more successful, achieving your goals and overcoming obstacles as we head into 2019.
"It always starts with this (pointing at his hands). Putting in the work."
"I break ground. I'm a trailblazer."
"When you walk up to opportunities door, don't knock it…kick that b*tch in, smile and introduce yourself."
"He who makes a beast of himself gets rid of the pain of being a man."
"Change doesn't begin when we get knocked on our ass, it begins the moment we decide to get back up on our own feet."
"Be humble. Be hungry. And always be the hardest worker in the room."
"Check your ego at the door. The ego can be a great success inhibitor. It can kill opportunities, and it can kill success."
"Never Full."
"If you cheat when training, you only cheat yourself."
"Success isn't always about 'Greatness', it's about consistency. Consistent, hard work gains success. Greatness will come."
"You can't erase your past, but welcome to your future."
"When life puts you in tough situations. Don't say 'why me' just say 'try me'."
"It's you vs you."
"Don't be afraid to be ambitious about your goals. Hard work never stops. Neither should your dreams."
"I've never gone wrong trusting my gut."
"The wall…Your success is on the other side. Can't jump over it or go around it. You know what to do."
"If something stands between you and your success, move it! Never be denied."
"No Substitute for Hard Work."
"With drive and a bit of talent you can move mountains."
"Let's Get to Work."
"Attitude and enthusiasm play a big part in my life. I get excited about the things that inspire me. I also believe in laughing and having a good time."
"Chase Greatness."
"Playing in the NFL was the best thing that never happened to me."
"All success begins with self-discipline. It starts with you."
To read more of Dwayne Johnson's inspirational quotes, click here.