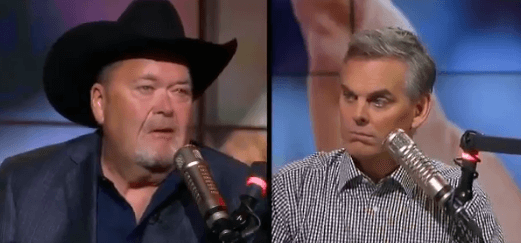 Good Ol' J.R. was a guest speaker on one of my favorite sport shows, The Herd on Fox Sports 1 yesterday. J.R. talks about scouting The Rock Dwayne Johnson and his passion and drive to be one of WWE's biggest stars. He tells host Colin Cowherd that Hulk Hogan, Stone Cold Steve Austin, The Rock and Ric Flair are on his Mount Rushmore of pro wrestlers.
Jim Ross, with his notable black cowboy hat, also talks about Roman Reigns, Brock Lesnar, Vince McMahon, Mick Foley and Conor McGregor. It was an awesome interview and was voted "Segment of the Day."
You can view the entire segment below. It's approximately 11 minutes and 30 seconds long.
J.R.'s New Book
Jim Ross was promoting his new book on the show, Slobberknocker: My Life in Wrestling. 
The book isn't just about wrestling stories, but overcoming adversity and achieving your dreams in life. And of course, juicy never-before-told stories of wrestlers and life on the road over his 50 years in the business.
Jim Ross, affectionately known as Good Ol' JR, is a former full time wrestling commentator, former WWE Director of Talent, founder of jrsbarbq.com and an Oklahoma Sooners football super fan.
More Pro Wrestlers on The Herd?
Kudos for Colin Cowherd inviting J.R. onto his show and letting the former WWE commentator talk casually about pro wrestling and behind the scenes activities. Hopefully this will lead to more wrestling personalities being invited onto the show like The Rock, John Cena or maybe even Vince McMahon. Time will tell…
Thanks for reading and please leave your comments below on who you would like to see on The Herd!