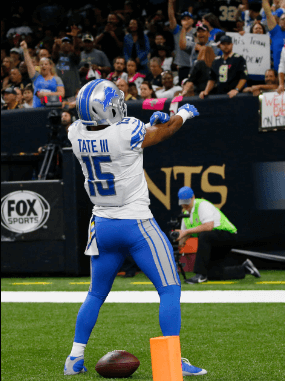 Detroit Lions wide receiver Golden Tate scored on an impressive catch and run this past Sunday in an NFL game versus the New Orleans Saints. The former Notre Dame star caught a short pass from quarterback Matt Stafford, shook off three would be tacklers, and raced into the end zone for the 45 yard touchdown.
After reaching the endzone, Tate celebrated with doing his own version of the People's Elbow.
BAH GAWD! He gave that football the People's Elbow

(cc: @TheRock) pic.twitter.com/MZkrtkB3of

— Isaac (@WorldofIsaac) October 15, 2017
Tate would finish the game with seven receptions for ninety six yeards and the touchdown. Detroit would eventually lose the game to New Orleans by a score of 52-38 and fall to a 3-3 win/loss record overall.
In this video, The Rock shows you how the People's Elbow is really done!