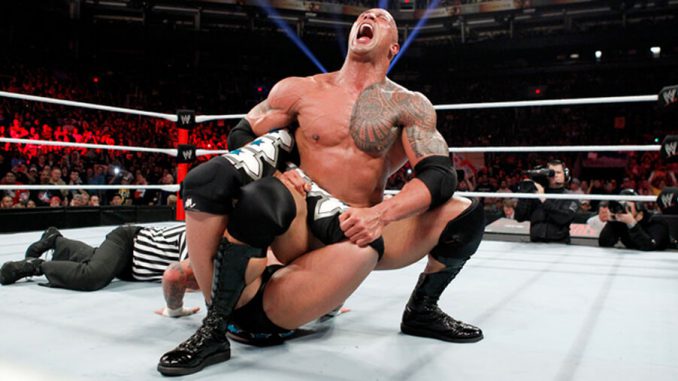 Dwayne "The Rock" Johnson as a UFC fighter? For a "real" Heavyweight Championship? Throwing punches with bad intentions?
The Rock sent the social media world into a frenzy the other day by replying to a question about if he ever considered joining the Ultimate Fighting Championship (UFC). 
Here is the tweet from The Rock's twitter feed: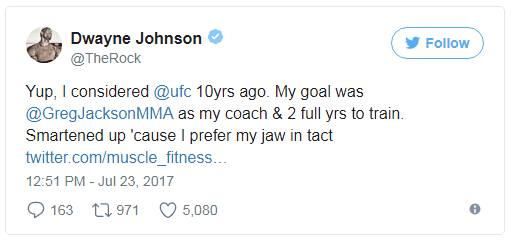 It's hard to imagine the current highest-paid actor wearing the 4 ounce gloves now. But according to him, his acting career wasn't taking off as he had planned and considered taking up the challenge to learn mixed martial arts.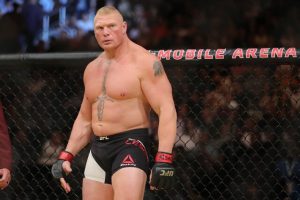 His movie roles in 2007 included a cameo appearance in Reno: 911, The Game Plan and his lowest grossing film of his career in Southland Tales. I can understand why Dwayne Johnson contemplated the career change.
In 2007, Randy Couture was the UFC Heavyweight Champion. If Dwayne would've trained for two years before ever stepping foot into the octagon, the champion in 2009 was none other than Brock Lesnar.
But before immediately deserving a title shot, Johnson would've probably had to face 2 time champ Frank Mir first, like Lesnar did. Or up and coming contenders Junior Dos Santos or Cain Velasquez, both future heavyweight champs.
Training MMA in New Mexico
The Rock would've been 35 years old if he had decided to start training with Greg Jackson's camp, based out of Albuquerque, New Mexico. Some of his prominent students include Jon Jones, Georges St. Pierre, Diego Sanchez, and Holly Holm. Not a bad place to learn mma and self defense.
PROS of the Rock
Has the physique at 6'5″ tall and 265 pounds
Has the work ethic and drive to train to be the best
Athleticism: was a Division 1 football player at the University of Miami
Has the killer instinct/intensity: see "I Quit Match" with Mick Foley
His name would generate millions in gate fees and PPV sales
CONS of an MMA Career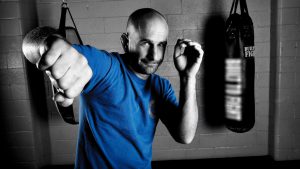 No amateur wrestling background
No boxing background
No Brazilian Jiu Jitsu experience
No kicking skills
Late start to learning/training
Limited Submission Skills: the sharpshooter probably won't make anyone tap out in the octagon
CONCLUSION
We are glad the former WWE Superstar didn't take the leap to the UFC. For every Brock Lesnar, there is CM Punk and Batista, guys who tried mma but didn't quite have the tools to succeed and become a household name through the UFC.
Dwayne has the physical tools, the drive to be the best, and could've received world class training if he had pursued the challenge. But I can't imagine the Hollywood A-lister having a smooth transition this late (when he was age 35) in life.
I've wrestled my whole life and am also a 1st degree black belt in Tae Kwon Do, but I know nothing of Brazilian Jiu-Jitsu, a common fighting discipline in mma.
Thankfully, Dwayne's movie career has progressed just fine, continuing to be the "hardest working man Hollywood."