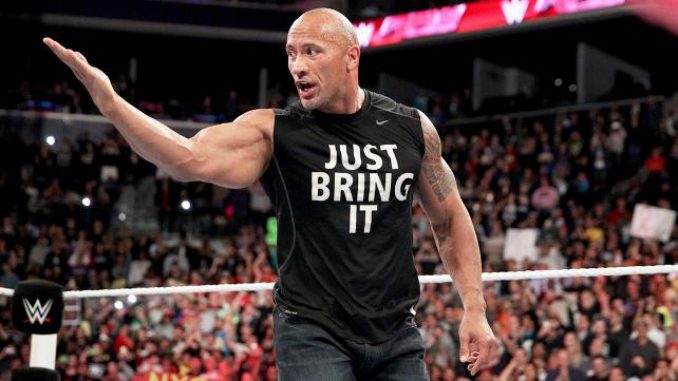 The 3rd part of The Rock's WWE wrestling quotes, insults and catchphrases. Be sure to leave a comment below on your favorite one!
Just like the shirt says, Just Bring It!
The Rock will put his boot so far up your ass, knock your teeth so far down your throat, you'll have to stick a toothbrush up your ass to brush them.
The Rock's birthday is May 2 you stupid son of a bitch!
Just, who in the blue Hell are you?
Well since Rock's baby left him….Well he found a new place to dwell…. Well it's down at the end of Jabroni Drive, at the…Smackdown Hotel.
I'm gonna take this bat, shine it up real nice, turn that sum bitch sideways, and stick it straight up your candy ass!
Who knew, that a man with 24" pythons, would have ½ inch testicles?
You should know something about lists…..looks like you spend about 20 hours a day on Craigslist.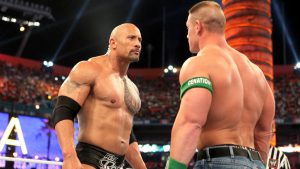 You run around here looking like a big, fat bowl of Fruity Pebbles! 
You're that entertaining when you still wear llama penises strapped to your head.
Shut your mouth you thong, wearing fatty!
In front of the millions, and millions, of The Rock's fans
You are no more than a suit wearing, bug eyed, cockamanied, punk ass bitch!
Let The Rock ask you a question
Don't lie to The Rock
Now shut your mouth, know your role, and don't move your damn head.

There's two things you can do about it……absolutely nothing and like it!
You look like a homeless Power Ranger
Let me tell you how this works. You and you're Rock's wanna be hair cut get out of The Rock's face! Who cut your hair? Ray Charles?
To read part 1 of The Rock's Best WWE Insults, click here.
Watch The Rock and Triple H reminisce about the good 'ol days on WWE SmackDown in 2014!